HIGH PERFORMANCE CARTRIDGE SYSTEMS
Each cartridge system includes a disposable, rigid, plastic container designed to store two components (base and catalyst) separately in a specific volumetric ratio. The outlets of each container are completely separate to prevent cross contamination of the interior contents, and the cartridge remains sealed between procedures as long as the mixing tip stays attached. All systems support the dispensing of high viscosity materials.
DISPENSING GUNS & PLUNGERS
These environmentally friendly, re-usable plungers and dispensing guns are designed for use with a dual barrel cartridge delivery system. The dispensers are ergonomically designed for practitioner comfort, are safe and easy to use, and ensure controlled, precise dosing. Dispensing guns have a release lever that coordinates with the plunger to help load and remove the cartridge. The handheld trigger guides the plunger into the cartridge, smoothly moving the material into the mixing tip.
*Large Cartridge System uses pneumatic table-top mixers (not available through Crown Delta).
STATIC & DYNAMIC MIXING TIPS
These high-quality static and dynamic mixing tips are disposable plastic nozzles with a series of internal baffles or elements anchored within a plastic tube. As the base and catalyst materials are extruded from the cartridge through the tip, the materials are repeatedly divided and recombined creating a complete and uniform mixture. For each system, there are specific mixers ranging in various sizes and mixing geometries ensuring optimal mixing for every application.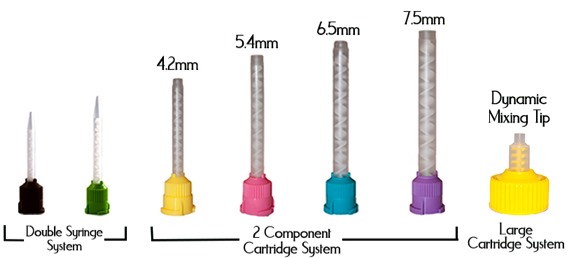 ACCESSORIES: RIBBON TIPS, INTRA ORAL TIPS & PISTONS
Intra Oral Tips are for precise flow, allowing for detailed impressions of delicate margins while keeping the material bubble free.
Ribbon Tips dispense a broad ribbon-like layer of impression material.
Pistons create an airtight seal, ensuring leakproof performance of the product.